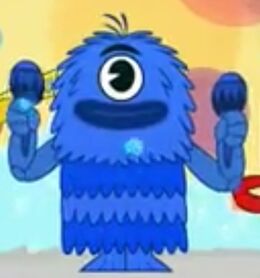 Bobby Blue is a character that appeared in the episode "No Strings Attached". He is the leader of The Bubble Bunch Band.
Biography
Edit
Bobby Blue is the main lead member of The Bubble Bunch Band. He is an aniamatronic one-eyed furry blue monster who plays blue maracas. He is also Corey's favorite of all the band members. He resembles a monster. The reason Corey is the band leader is quite possibly because the Bubble Bunch Band member that was his favorite was the leader of his band.
Appearance
Edit
Bobby Blue is a blue, furry, striped creature with one eye.
Episode Appearances
Edit
He is a parody of Muno and Brobee from Yo Gabba Gabba! Having the Cyclops eye of Muno, the body shape and fur pattern of Brobee, and the color scheme of Toodee. He is also the member of the Bubble Bunch Band to mirror the most Yo Gabba Gabba characters.
Ad blocker interference detected!
Wikia is a free-to-use site that makes money from advertising. We have a modified experience for viewers using ad blockers

Wikia is not accessible if you've made further modifications. Remove the custom ad blocker rule(s) and the page will load as expected.