Boomerang is one of the production companies that aired Grojband.
Broadcast history
Edit
The first five episodes of Grojband aired on Boomerang on June 25, 2013 [1] in a special airing, which aired in order to promote the series's airings on Cartoon Network. After that, Grojband was removed from Boomerang's line-up, and was not shown on Boomerang again until January 10, 2015, when the series returned to Boomerang's line-up. Airing weekend afternoons at 1:30 pm, Grojband, along with another Canadian flash cartoon, Numb Chucks, became one of the first shows to air new episodes on Boomerang for the channel's rebrand, which started on January 19, 2015. Boomerang aired all of the episodes that had already aired on Cartoon Network from January 10, 2015 [2] until February 17, 2015. Then, the series's second season were aired on TV for the very first time on Boomerang, with "Rockersize" being the first episode to be originally shown on Boomerang, on February 23, 2015. The final episode of season two (and the final episode of the entire series), "Hear Us Rock Part 2", aired on Boomerang on April 12, 2015. Re-runs of Grojband continued airing on Boomerang until July 12, 2015, when it and Numb Chucks were removed from Boomerang's line-up entirely.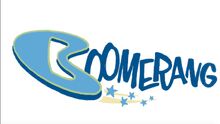 While Cartoon Network was first debuting the episodes of Grojband on their channel, Boomerang had already aired the first five episodes of the series before they aired on Cartoon Network
Although the episode Six Strings of Evil was temporarily banned in the Cartoon Network broadcasting of the show, it aired normally on Boomerang, on February 17, 2015, without hesitation.
The final 13 episodes aired on Boomerang before they aired on Teletoon in Canada, Therefore, every episode of the series was originally aired in the United States before Canada.
References
Edit
↑ "Boomerang Schedule- June 2013"- LocateTVhttps://web.archive.org/web/20120503101756/http://www.locatetv.com/listings/boomerang
↑ "Boomerang Schedule- January 10, 2015"- LocateTVhttps://web.archive.org/web/20150110175458/http://www.locatetv.com/listings/boomerang