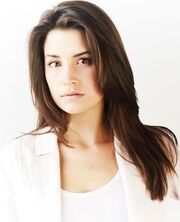 Bryn McAuley is a voice actress on Grojband, she voices Laney Penn.
Voice Acting Roles
Edit
Outside of Grojband
Edit
Caillou (Caillou)
Anne Shirley (Anne of Green Gables: The Animated Series)
Oyster (Toad Patrol)
Gina Lash (Angela Anaconda)
Hanna (Girlstuff/Boystuff)
Becky Lopez (George Shrinks)
Sam (Harry and His Bucket Full of Dinosaurs)
Nannerl, Pumperl (Wunderkind Little Amadeus)
Skye Blue (Carl²)
Petra the Hedgehog (Cyberchase)
Twinkle (Pearlie)
Ren (Beyblade: Shogun Steel, Beyblade: Metal Fusion)
Harriet (Franklin and Friends)
Dash (Oh No! It's An Alien Invasion)
Suzi (Camp Lakebottom)
Quills (Numb Chucks)
Amy/Samey (Total Drama: Pahkitew Island)
Eleanor Sterne (The Day My Butt Went Psycho!)
Daisy Maddox (Fatal Affair)
Taylor (Total Drama Presents: The Ridonculous Race)
Cid (Fangbone!)
Mavis ( Hotel Transylvania: The Series)
Bryn McAuley also works with FreshTV on two other shows.

On Total Drama, she provides the voices of twins Amy and Samey.

Coincidentally just like Laney and Larry they are two identical looking characters who are enemies.

She also worked on Total Drama Presents: The Ridonculous Race providing the voice of Taylor.
Ad blocker interference detected!
Wikia is a free-to-use site that makes money from advertising. We have a modified experience for viewers using ad blockers

Wikia is not accessible if you've made further modifications. Remove the custom ad blocker rule(s) and the page will load as expected.