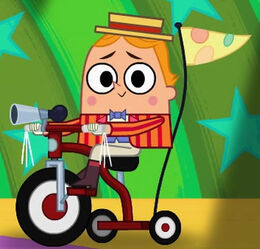 Carney Kid is a character that appeared in the "No Strings Attached". He is a little boy who co-hosts a kid's show with Captain Carney.
Appearance
Edit
Carney Kid is a short little man with a funky little getup. He wears a yellow entertainers hat with a red stripe and an red-orange shirt with pure red stripes. He has a white shirt with a navy blue trim underneath and a navy blue colored bow tie and white jeans with big brown cowboy boots and a black belt with a silver buckle. Lastly, Carney Kid also has some white gloves. Carney Kid also has short and silky smooth blonde hair, worn down to just above his ears and he also seems to wear what looks like pink blush. However, this could just be the normal color of his cheeks. Carney Kid revealed that he had a six pack of abs and big biceps. He has green tattoos of a heart on his shoulder and two anchors on his arms.
Personality
Edit
Carney Kid is a nice little guy who is pretty quiet and doesn't talk much. He goes along with all of the things that Captain Carney does and seems to be perfectly happy with that. However, when he does speak up, like he rarely does, he is shown to be an extremely tough and ruthless fighter who will stop at nothing to put someone in their place for wronging him.
Ad blocker interference detected!
Wikia is a free-to-use site that makes money from advertising. We have a modified experience for viewers using ad blockers

Wikia is not accessible if you've made further modifications. Remove the custom ad blocker rule(s) and the page will load as expected.