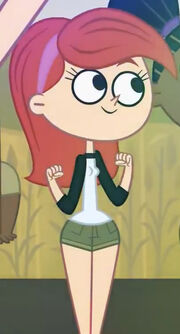 Chloe is a background character in Grojband.
Appearance
Edit
Chloe is a tall girl with bright red hair and a pink headband. She wears a white shirt with black sleeves and short green pants.
Episode Appearances
Edit
She has constantly been seen expressing an attraction for Nick Mallory in the episodes Smash Up Terby, Line of Credit, Six Strings of Evil, and Girl Fest.
She has also been seen expressing love for Party Danimal in the episodes Smash Up Terby and It's in the Card.
References
Edit
Ad blocker interference detected!
Wikia is a free-to-use site that makes money from advertising. We have a modified experience for viewers using ad blockers

Wikia is not accessible if you've made further modifications. Remove the custom ad blocker rule(s) and the page will load as expected.