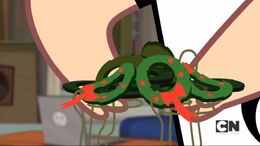 The Christmas Scented Air Fresheners, are the air fresheners that Kon bought in the episode "Bee Bop A Loofah."
Biography
Edit
Kon traded his Magic Jelly Beans for a huge box of the air fresheners, which Kin was unhappy about because he really liked those magic jelly beans. Kon only wanted the air fresheners because they smelled like Christmas. Later in the episode, everybody was getting so fed up with the stink, that Kin and Kon made a fortune off of selling their air fresheners. At the end of the episode, Kon saved enough air fresheners for the band and he used the money he made selling them to buy the magic jelly beans back.
Appearance
Edit
The air fresheners are in the shape of a wreath and have red ribbons and dots on them. They have greenish strings around them and according to the Kin, Kon, and Laney, they apparently smell like Christmas.
Ad blocker interference detected!
Wikia is a free-to-use site that makes money from advertising. We have a modified experience for viewers using ad blockers

Wikia is not accessible if you've made further modifications. Remove the custom ad blocker rule(s) and the page will load as expected.