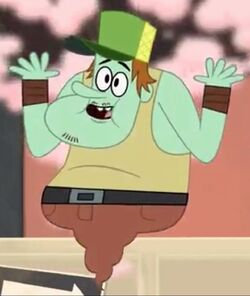 Cleat
is a character that appeared in the episode "
Wish Upon a Jug
". He is a genie that
Trina
found in a jug. He talks like a stereotypical farmer and he grants wishes by spitting. He is voiced by
Brian Froud
.
Appearance
Edit
Cleat is a genie who has teal skin. He has light brown hair and a light green cap. He has a brown mustache and beard. He has a tan undershirt and he wears brown pants with a black belt.
Personality
Edit
Cleat acts like a stereotypical trucker, talking in street slang such as "howdy." He also has a habit of spitting on the ground to grant wishes.
Ad blocker interference detected!
Wikia is a free-to-use site that makes money from advertising. We have a modified experience for viewers using ad blockers

Wikia is not accessible if you've made further modifications. Remove the custom ad blocker rule(s) and the page will load as expected.