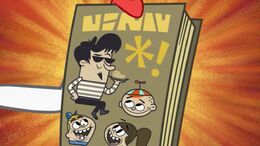 Daddy-o's annual party manual: 50s edition is a book that appeared in the episode "Pox N Roll." It is a book that tells people how to throw a perfect party. Corey used this book so that he could make his Chicken Pox Party awesome. One of the things he read in the book was to play hot potato, but this failed because everyone was wearing oven mitts.
Ad blocker interference detected!
Wikia is a free-to-use site that makes money from advertising. We have a modified experience for viewers using ad blockers

Wikia is not accessible if you've made further modifications. Remove the custom ad blocker rule(s) and the page will load as expected.