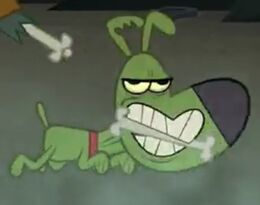 Dog Nick is Nick Mallory's deceased pet dog. It was briefly brought back to life as a zombie in the episode Dance of the Dead, but was sent back to its slumber thanks to Grojband's song Zombie Dance.
Appearance
Edit
Dog Nick is a green zombified dog with a big black nose and he wears a red collar with a golden tag. He has a bite taken out of his ear, suggesting he may have been in a fight. It is unknown what color his fur was before he died.
Ad blocker interference detected!
Wikia is a free-to-use site that makes money from advertising. We have a modified experience for viewers using ad blockers

Wikia is not accessible if you've made further modifications. Remove the custom ad blocker rule(s) and the page will load as expected.