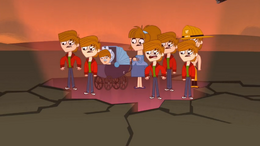 The Dream Nicks also known as the Many Nicks are dream versions of Nick Mallory that appear in the episode Dreamreaver Part 1 and Dreamreaver Part 2. They are fantasised by Trina Riffin in her dream due to her huge crush on Nick.
Known Dream Nicks
Edit
Regular Nicks - The regular Nicks have the same appearance that the real Nick Mallory normally has.
Mother Nicks - The Mother Nicks wear their hair in ponytails and bonnets and a blue dress and a blue skirt. They push strollers around that have Baby Nicks in them and are seen firing babies at Grojband.
Baby Nicks - The Baby Nicks are babies with Nick Mallory heads. They are inside of strollers that are pushed by Mother Nicks. They wear no clothes other than a diaper and a nappy. They also have pacifiers.
Winged Monkey Nicks - The winged monkey Nicks resemble Nick Mallory as well as the Flying Monkeys from The Wizard of Oz. They are green winged monkeys with red hats no shirts. They are have Nick Mallory head which is also green and hairy.
Fire Fighter Nicks - The fire fighter Nicks are fire fighters that look like Nick Mallory. They wear yellow fireman hats and orange pants and they are also shirtless.
"It's the band, get them!"
The Dream Nick's are also known as "Many Nicks."
Unlike the real Nick Mallory, the Fire Fighter Nicks don't have abs.
The Winged Monkey Nicks are a parody on The Flying Monkeys from The Wizard of Oz.
Ad blocker interference detected!
Wikia is a free-to-use site that makes money from advertising. We have a modified experience for viewers using ad blockers

Wikia is not accessible if you've made further modifications. Remove the custom ad blocker rule(s) and the page will load as expected.