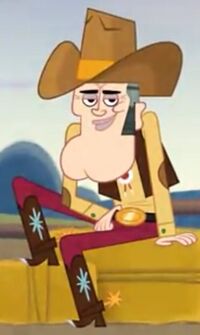 Earl Rural was a cowboy that was mentioned in the episode "For Hat and Country." He was the toughest cowboy and best country music writer from 1995 to 1997.
Appearance
Edit
Earl Rural is an old cowboy who wears a big ten gallon cowboy hat. His hat is a light brownish tan color with a yellow stripe. Earl Rural has gray hair that go down into sideburns. He wears a tan long sleeved shirt with a brown vest. He has a brown belt with a golden buckle on it and a pair of her pants. He also has brown cowboy boots. His face is very sculpted and handsome. He has a very big chin with a huge cleft and a big, broad mouth and very thick and shiny black eyebrows.
Ad blocker interference detected!
Wikia is a free-to-use site that makes money from advertising. We have a modified experience for viewers using ad blockers

Wikia is not accessible if you've made further modifications. Remove the custom ad blocker rule(s) and the page will load as expected.