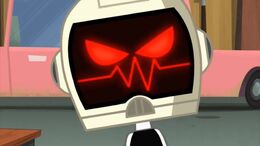 The Evil Helmet is a robotic helmet that was invented by Kin, and was originally intended to auto-tone Corey's voice when it cracked, but after Trina presses it's evil button, it went rogue and got a mind of it's own. After fighting it, it left Corey and started making everything in Peaceville perfect .It appears in the episode Helmet.
Appearance
Edit
The Evil Helmet is a white round helmet that looks like a space helmet. It has a black screen on the front that has two blue eyes and a line going across it that makes the mouth. It vibrates whenever it talks. When the helmet goes into it's evil mode, the eyes and mouth turn red.
Personality
Edit
The Evil Helmet is a perfectionist. He is always going around zapping things with his laser to make everything perfect. He is a neat freak so to speak and he wants to correct all of the imperfections in the world.
It is similar to the Lucky Helmet from The Amazing World of Gumball, as both objects were enjoyed to characters and then later it made them rogue, and both are destroyed, and both are villainous.
Ad blocker interference detected!
Wikia is a free-to-use site that makes money from advertising. We have a modified experience for viewers using ad blockers

Wikia is not accessible if you've made further modifications. Remove the custom ad blocker rule(s) and the page will load as expected.