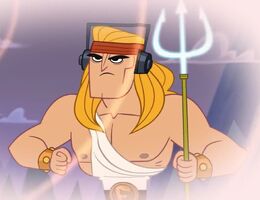 Frequencious
is an ancient rock god of the legends of
Rock Lore
. His story was told in the episode
On the Air and Out to Sea
.
Biography
Edit
Frequencious hated the sounds of the Rocklympus radio station, so he destroyed it with his staff and replaced it with his own music to make a better sound fill the airs of Rocklympus. This was until the gods found out and got angry at him for it and they attacked him by striking him with lightning.
Appearance
Edit
Frequencious is a strong, sculpted god with longish blonde hair and a red headband. He wears black headphones and a white robe. He also has two golden bracelets and brown belt with the letter "F" on it which stands for his name. Frequencious also carries around a golden staff with a bright, glowing trident on it.
Ad blocker interference detected!
Wikia is a free-to-use site that makes money from advertising. We have a modified experience for viewers using ad blockers

Wikia is not accessible if you've made further modifications. Remove the custom ad blocker rule(s) and the page will load as expected.