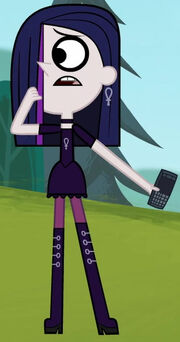 Gigi is a background character in Grojband. She is a goth girl who had her only speaking role in the episode "Myme Disease."
Appearance
Edit
Gigi is a tall girl with pale white skin and dark black eyeliner. She has long, dark, indigo hair with magenta streaks, which covers one eye. She has purple stockings which go into her boots. She wears silver earrings in the shape of ankhs and a necklace which also has a silver ankh on it.
Personality
Edit
Gigi is seen to be very unhappy all the time. She does however, feel happy when she's seen listening to Grojband play music. She was also extremely overjoyed in the episode Myme Disease when she saw Nick Mallory's painting.
"Whatever mother."
"Mom, I'm sorry about everything ever."
Episode Appearances
Edit
Gigi's earrings and necklace have the Ankh symbol on them.
References
Edit
Ad blocker interference detected!
Wikia is a free-to-use site that makes money from advertising. We have a modified experience for viewers using ad blockers

Wikia is not accessible if you've made further modifications. Remove the custom ad blocker rule(s) and the page will load as expected.