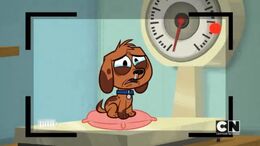 Grojband's Viral Video
is a video made by
Grojband
in the episode
The Snuffles with Snarffles
. The video focuses on
Snarffles
and is intended to raise awareness to his cold. The video shows Snarffles sneezing with a voice-over provided by
Laney
. The video then went viral on the Internet and everyone started to care about him.
Snarffles: Achoo!
Laney: This puppy just sneezed and there was no one there to bless him. Don't lend a tissue, lend a hand, because no puppy sneezes just once.
Ad blocker interference detected!
Wikia is a free-to-use site that makes money from advertising. We have a modified experience for viewers using ad blockers

Wikia is not accessible if you've made further modifications. Remove the custom ad blocker rule(s) and the page will load as expected.