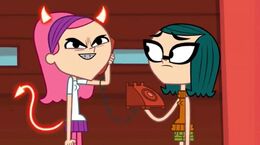 The
Hotline Phone
is a phone that is recurrently used by
Trina
to call
Mayor Mellow
and rat out
Grojband
for doing anything that he would disapprove them so that she can ruin their gigs.
Biography
Edit
Trina first used the hotline phone in Pox N Roll, to tell Mayor Mellow that Corey was hosting a Chicken Pox Party in his garage. Mayor Mellow came right away to put an end to the party by quarantining in in a bubble. She used it again in Math of Kon where she called Mayor Mellow to inform him that Kon is bad at math, which as a result led to Mayor Mellow canceling Grojband from performing at the Trimathalon. In the episode Zoohouse Rock, Trina called Mayor Mellow, to tell him that she has some bears in her garage (which was really Grojband dressed in beat costumes). Mayor Mellow came and trapped them all in a cage and took off with them. In The Pirate Lounge for Me, Trina called Mayor Mellow, telling him that Grojband had a lounge in their garage and that people were technically "loitering" by sitting around in there. Mayor Mellow came to put a stop to it. In Hear Us Rock Part 1, Trina called Mayor Mellow to say that the rumors of the Apocalypse were lies and that the end of the world party should be put to an end.
Episode Appearances
Edit
Ad blocker interference detected!
Wikia is a free-to-use site that makes money from advertising. We have a modified experience for viewers using ad blockers

Wikia is not accessible if you've made further modifications. Remove the custom ad blocker rule(s) and the page will load as expected.