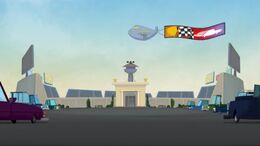 The Indie 400 is a race track event that first happened in the episode Indie Road Rager. Grojband entered this race with the Grojcar and they competed against School Bus Rhonda, Monster Chuck, and Ice Cream Tom. Grojband won the race.
Episode Appearances
Edit
Ad blocker interference detected!
Wikia is a free-to-use site that makes money from advertising. We have a modified experience for viewers using ad blockers

Wikia is not accessible if you've made further modifications. Remove the custom ad blocker rule(s) and the page will load as expected.