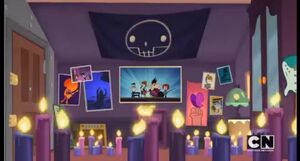 Kate and Allie's shrine to Grojband
is a shrine to
Grojband
that
Kate and Allie
have in their closet. It appeared in the episode "
Group Hug
."
Appearance
Edit
Kate and Allie's shrine to Grojband is a shrine in a closet with purple walls. There is a purple banner on the ceiling with a white outline of the Grojband skull. There are pictures on the wall of an orange silhouette of Laney in a purple background, a picture of Grojband singing the Grojband Theme Song, a picture of Corey's mugshot from Line of Credit, a picture of Corey singing the song Yesterday, a 'Lady Rage' poster like the one in Girl Fest and in the middle is a big picture of Grojband playing a song in a shining blue background. On the floor is a bunch of aroma therapy candles that are all kinds of shades of purple.
Ad blocker interference detected!
Wikia is a free-to-use site that makes money from advertising. We have a modified experience for viewers using ad blockers

Wikia is not accessible if you've made further modifications. Remove the custom ad blocker rule(s) and the page will load as expected.