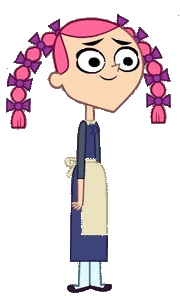 Katrina is the alternate dream version of Trina that appeared in the episode Dreamreaver Part 2. She is a nice version of Trina that was trapped in a dungeon in her mind.
Appearance
Edit
Katrina's appearance is near-identical to that of Trina's, except she wears her hair in braids with purple bows instead of a purple headband. She also wears a blue maid's dress and a yellowed apron, rather than Trina's white shirt and purple skirt. Katrina has white stockings and black shoes.
Personality
Edit
Katrina's personality seems to be the polar opposite of Trina's. She is a very nice girl who loves her brother and his band. She also loves to help her brother and his band with whatever they need. She is even obedient to the point where she will follow orders even when she knows that they are completely wrong and unfair. She is a bit too nice because she is even nice to people who are mean to her. For instance, when Quincess Trina locked her in the dungeon, she had the ability to escape but she didn't escape because that would be "un-obedient." However, Corey must have convinced her to be a little more abrasive during their time together, because after she was freed from the dungeon, she stood up to Mirage Band.