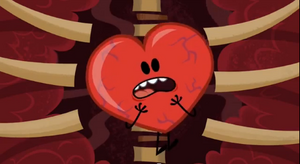 Laney's Heart is a heart with eyes, arms, legs, and a mouth that is inside of Laney. It sometimes shows up and starts talking whenever Laney starts feeling loving for Corey. Laney's heart wants her to ask out Corey.
Appearance
Edit
Laney's Heart is a red heart with black eyes and a mouth. It has black arms and legs. He has some light purple faded veins on him and some white glare along his sides. It's usually surrounded by her rib cage.
Personality
Edit
Laney's heart really wants Corey and Laney to get together. He is shown to get really excited when Corey shows that he might love her as seen in the episode Dance of the Dead and he is also impatiently waiting for Laney to ask him out as seen in the episode All You Need is Cake.
Episode Appearances
Edit
In the episode, Who Are You, it was revealed that Trina has a talking heart inside of her that looks very similar to Laney's Heart.
Ad blocker interference detected!
Wikia is a free-to-use site that makes money from advertising. We have a modified experience for viewers using ad blockers

Wikia is not accessible if you've made further modifications. Remove the custom ad blocker rule(s) and the page will load as expected.