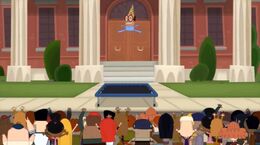 Mayor Mellow's Birthday Party is an event held in Super Zeroes. It is a birthday party for Mayor Mellow held outside the town hall with the whole town invited. At the party, Mayor Mellow jumps on a trampoline in his pyjamas while the guests watch. Grojband's superhero alter-egos The Justice Band were invited to come and perform at the party. However, the party is gatecrashed by Trina Riffin's villain persona Stiletto, who holds Mina Beff hostage. Mayor Mellow instructs Justice Band to take her down, which they do so, and then perform a gig.
Ad blocker interference detected!
Wikia is a free-to-use site that makes money from advertising. We have a modified experience for viewers using ad blockers

Wikia is not accessible if you've made further modifications. Remove the custom ad blocker rule(s) and the page will load as expected.