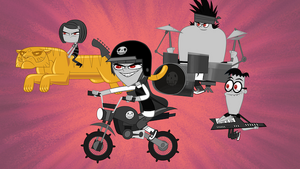 Mirage Band
also known as
The Band
is a band of evil dopplegangers of
Grojband
. They exist in
Trina's Dream World
, and were created by Trina's traumatised mind after having Grojband's video channeled directly into her head.
Biography
Edit
Mirage Band is a band of evil versions of Grojband that first came into Trina's dream world and invaded her world making it a nightmare world. Ever since then, they have drove around the place causing doom and destruction. They trapped Trina's nice version in the dungeon. In the end of Dreamreaver Part 2, Grojband destroyed them while playing the song My Mind.
The title of this band is conjectural as the only time they were ever addressed as "Mirage Band" is when Katrina name-called them that as a pun, which is a running gag affiliated with Trina. Mirage Band has been directly addressed multiple times simply as "The Band" by the members of the dream world, meaning that this could be what they're really known as.
The band was most likely created when Trina's mind broke after having to watch Grojband's music video in a loop for 5 hours.