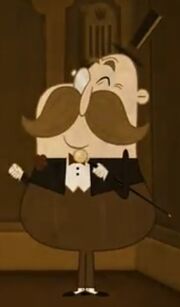 Mr. Peapenny is a man who appeared in a flashback of Otis's job as an elevator bellboy.
Appearance
Edit
Mr. Peapenny is a fat man who wears a top hat and a monocle. He has a big moustache and wears a tuxedo and pants. He carries around a stick and he wears shoes.
"Just roll the dice good man. I'm feeling luckish tonight!"