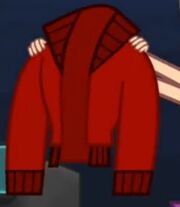 Nick's Jacket is a red jacket owned by Nick Mallory, that he is almost always seen wearing.
Biography
Edit
While it makes a lot of appearances, it plays a significant role in Dreamreaver Part 1 and Dreamreaver Part 2, where Trina reveals she has a secret desire to obtain his jacket, leading her Mina to steal it. It also appeared in Trina's dreams, when she dreamed she was Quincess Trina and was offered the jacket as a gesture of marriage.
Appearance
Edit
It is a red, (presumably) leather jacket, with frills at the neck and wrist collars.
The only times Nick isn't seen wearing his jacket is in Pox N Roll (where he slings it over his shoulder) and Hear Us Rock Part 1, where he has taken it off.
Nick's brother Mick Mallory wears a near-identical jacket, which is smaller sized.
Ad blocker interference detected!
Wikia is a free-to-use site that makes money from advertising. We have a modified experience for viewers using ad blockers

Wikia is not accessible if you've made further modifications. Remove the custom ad blocker rule(s) and the page will load as expected.