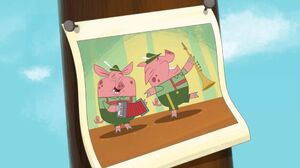 Porka Polka is a band of two pigs who do the polka. They were mentioned in the episode ""Zoohouse Rock".
Appearance
Edit
The Members of this band are two pigs that look just the same, pig one wears a red lederhosen and pig two wears a yellow lederhosen. They both have green shorts and shirts under them. They each have green hats with little white feathers on them.
Pig 1 - Pig 1 is a pig that plays the accordion.
Pig 2 - Pig 2 is a pig that plays the bugle.