Quincess Trina is an alternate dream version of Trina that appeared in "Dreamreaver Part 2". She is the ruler of Trina's dream world, and is always accompanied by a dream world dog version of Mina. She is seen asleep, before Grojband woke her up for her to go into Diary Mode. She is also shown in flashbacks as told by Katrina.
Biography
Edit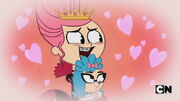 Quincess Trina is the ruler of Trina's Dream World. The dream world used to be a very happy and loving place until one day, she was on a hill on a date with one of the Dream Nicks. The dream Nick offered Quincess Trina his jacket in marriage until Mirage Band came in and destroyed everything in the beautiful world, turning it into a miserable, twisted, nightmarish form of a dream world. Currently, Quincess Trina looks like the normal Trina Riffin, only she wears a nightgown. She sleeps in a bed that is on top of a tall tree-like dream tower where she controls and rules over all of the dream world.
Appearance
Edit
Quincess Trina looks exactly like Trina only her hair is big and poufy and she wears a tiara with three red rubies in it. She wears a big red and pink dress that is encrusted with white diamonds that are in the shapes of hearts.
Ad blocker interference detected!
Wikia is a free-to-use site that makes money from advertising. We have a modified experience for viewers using ad blockers

Wikia is not accessible if you've made further modifications. Remove the custom ad blocker rule(s) and the page will load as expected.