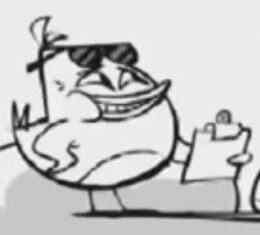 Red Breast
is a bird that appeared in the
Grojband Pilot
. He is a salesperson who sells houses to other birds.
Appearance
Edit
Red Breast is a red breast bird who wears sunglasses. His colors are unknown since he only appeared in the uncolored Grojband Pilot episode, but because of the fact that he is a red breast bird, he must be a black bird with a red chest.
You folks will not be sorry. You are just going to love this peaceful neighborhod.
Red Breast, out.
He was originally intended to appear in the episode Smash Up Terby, but his scene was cut for time.
He was the first character to speak in the Pilot episode making him the first character in Grojband history to speak.
Ad blocker interference detected!
Wikia is a free-to-use site that makes money from advertising. We have a modified experience for viewers using ad blockers

Wikia is not accessible if you've made further modifications. Remove the custom ad blocker rule(s) and the page will load as expected.