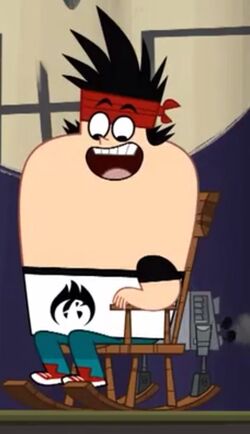 The Rocking Chair is an invention that was made by Kin in the episode The Pirate Lounge for Me. It is a motor powered rocking chair that is designed to make a rocking chair's rocking motions more fun and easy. However, it is flawed and will go out of control when used, hurting the current user. It was later used to help dig a tunnel underground.
Appearance
Edit
The Rocking Chair seems to be a brown wooden rocking chair with a gray metal motor attached to the back of it which propels it to rock really fast. The motor makes dark gray smoke come out of it. The rocking chair also seems to be somewhat reclinable by making the back if it bend backwards when it started going out of control.
Ad blocker interference detected!
Wikia is a free-to-use site that makes money from advertising. We have a modified experience for viewers using ad blockers

Wikia is not accessible if you've made further modifications. Remove the custom ad blocker rule(s) and the page will load as expected.