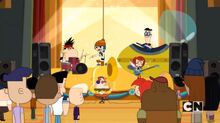 The Science Fair is an event that was held at Elementary High in the episode "Inn Err Face." It is a science fair for all the kids to show their science projects. Mayor Mellow and Nick Mallory were the judges. In the end, Grojband had won the fair, so they played the song You've Turned all my Protons into Kon-Tons.
Ad blocker interference detected!
Wikia is a free-to-use site that makes money from advertising. We have a modified experience for viewers using ad blockers

Wikia is not accessible if you've made further modifications. Remove the custom ad blocker rule(s) and the page will load as expected.