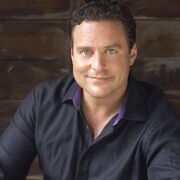 Seán Cullen is a guest voice actor on Grojband. He is best known for starring as himself in his own sitcom The Seán Cullen Show, and his roles as Narwhal and Piggy on Almost Naked Animals, and Principal General Barrage on Detentionaire.
Outside of Grojband
Edit
Himself, various (The Seán Cullen Show)
Narwhal, Piggy (Almost Naked Animals)
Lucius, Cerbee, Lucius Heinous VII (Jimmy Two-Shoes)
Principal General Wendell Barrage (Detentionaire)
Gus, Nefarious, Deep Space Dave (Rocket Monkeys)
Emperor Brainilus III (Oh No! It's an Alien Invasion)
Cop (Duty Calls)
Himself (Bookaboo)
Ad blocker interference detected!
Wikia is a free-to-use site that makes money from advertising. We have a modified experience for viewers using ad blockers

Wikia is not accessible if you've made further modifications. Remove the custom ad blocker rule(s) and the page will load as expected.