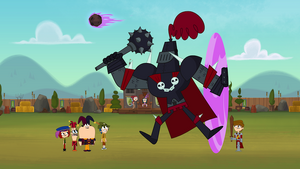 Smasheus is a character that appears in the episode "A Knight to Remember." He is a giant, evil knight from the legends of Rock Lore, who smashes everything.
Appearance
Edit
Smasheus is a giant, black, armored knight. His helmet has a big, fluffy, red feather adorned at the top. He wears a red cape that is tied around his arms and legs. He wears black gauntlets, and his armor is spiked at the shoulders and knees. He wields a giant medieval mace, and has two metal skulls attached together by a chain tied to the front of his cape.
Production
Edit
Ad blocker interference detected!
Wikia is a free-to-use site that makes money from advertising. We have a modified experience for viewers using ad blockers

Wikia is not accessible if you've made further modifications. Remove the custom ad blocker rule(s) and the page will load as expected.