Télétoon



French Launched:

September 8, 1997
Télétoon is the French television channel that airs Grojband and various other shows. It is headquartered in Montreal, Quebec.
Télétoon aired Grojband on June 10, 2013
Grojband was created by Fresh TV, the production company who made Cartoon Network's popular series Total Drama.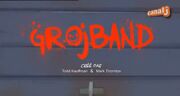 This channel features a slightly modified version of the Theme Song on their broadcasts wherein the title card at the end has it so that the "O" is made to look like the Grojband skull.
Ad blocker interference detected!
Wikia is a free-to-use site that makes money from advertising. We have a modified experience for viewers using ad blockers

Wikia is not accessible if you've made further modifications. Remove the custom ad blocker rule(s) and the page will load as expected.