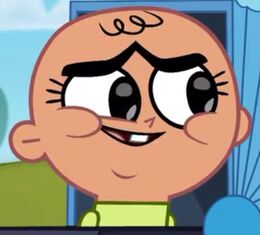 The
Talking Baby
is a very minor recurring character in the show. He is a talking baby who first appeared in
Line of Credit
and is most notable for being a member of
Two Junior's
team.
Biography
Edit
The talking baby first appeared in the episode "Line of Credit", as one of the delinquent babies at Playpen Max Security Daycare and a member of Two Junior's gang.
He appeared again in Myme Disease, where he was seen in a stroller and crying. His mother was seen pushing him until she saw Nick's painting of Trina and was blown away by it. The baby then got up and saw it and he was so mezmerized and taken away by it, that he stopped crying and vowed never to do it again.
He appeared again in A-Capella-Lips Now as a member of Two Junior's gang again, breaking out of Playpen.
He made a non-speaking cameo appearance in the episode The Bandidate in a montage of all the laws being passed in the song Henceforth. He was seen with a bunch of other delinquent babies as a blue ribbon was being awarded to them.
He appeared once again in Saxsquatch, briefly as part of a Wicked Cool Transition. The wicked cool transition was saying "Yetis eat a lot of food!" and a bunch of food fell down the screen which for some reason, included himself along with it too.
Episode Appearances
Edit
Ad blocker interference detected!
Wikia is a free-to-use site that makes money from advertising. We have a modified experience for viewers using ad blockers

Wikia is not accessible if you've made further modifications. Remove the custom ad blocker rule(s) and the page will load as expected.