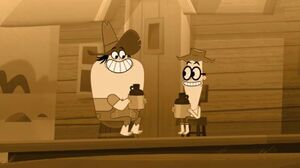 The Brotherly Boys are two people that were told about by Kin and Kon in a Rock Lore in the episode "Wish Upon a Jug." They are two people that look identical to Kin and Kon who discovered jug music.
Biography
Edit
The Brotherly Boys were two people that were suffering from an extreme heatwave. They loved to play music but they decided that they had to give up their musical instruments in a trade to get jugs of root beer to keep them hydrated. The heat from the heatwave was so intense, that it evaporated their root beer before they could drink it. They both cried while holding their empty jugs and when they did, they breathed air into the jugs and it made sound. When they realized that blowing air into jugs made sound, they both started blowing air in there a whole bunch to make music. They had tons of fun making music until, according to Kon, they died of thirst.
Appearance
Edit
The Brotherly Boys look identical to Kin and Kon, only they wear cowboy hats and suspenders.