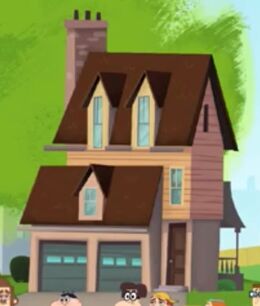 The Penn House
is the home of
Laney Penn
and her parents. The Penn house is right next door to
The Riffin House
.
Biopgraphy
Edit
The Penn House has never been explicitly acknowledged in the series, but it was confirmed that Laney lives next door to the Riffins and in the episode Smash Up Terby, it was shown that the house on the right side of The Riffin House belongs to a completely different neighbor of theirs, meaning that the house of the left of theirs is The Penn House. The only known residents of the house would be Laney, her mother, and her father. It was also confirmed that Laney is an only child, meaning that it's unlikely that there is anyone else who lives there. The inside of The Penn House was seen in the episode It's in the Card, where Laney was briefly seen in her bedroom. A photo of the inside of her house was also seen in Grin Reaper.
Appearance
Edit
The Penn House is a tan colored, tow story house with a brown roof. The house has two blueish gray garage doors and a brown front door. There is also a back porch. 
Residents
Edit
Ad blocker interference detected!
Wikia is a free-to-use site that makes money from advertising. We have a modified experience for viewers using ad blockers

Wikia is not accessible if you've made further modifications. Remove the custom ad blocker rule(s) and the page will load as expected.