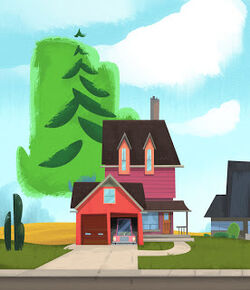 The Riffin House is a house that the Riffin family lives in.
Appearance
Edit
The Riffin House is red and has a black roof on it. The main body of the house is a sort of pinkish colored red, while the garage section of the house is a brighter more straight out colored red. The front door is a brownish orange color. There are two garage doors that are only visible as two from the outside, while on the inside, it's only one door. They are also a darker color red than the garage's body and on the other side of the door(s), it is gray. There is also a really tall, gray, stone chimney. It is a two story house that is located in Peaceville. Trina's room is both a loft and attached to garage. There's a door to the garage and one leading to the hallway on the second floor of the house next to the bathroom.
Residents
Edit
Corey's Room
Kitchen
Dining Room
Concept Art
Edit
References
Edit
Ad blocker interference detected!
Wikia is a free-to-use site that makes money from advertising. We have a modified experience for viewers using ad blockers

Wikia is not accessible if you've made further modifications. Remove the custom ad blocker rule(s) and the page will load as expected.