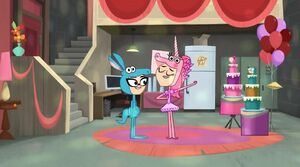 Trina's Animal Costume Party is a party that was held in the Garage of The Riffin House by Trina Riffin. It appeared in the episode "Zoohouse Rock." It was a zoo animal themed party that nobody attended except for Mina and for a short period of time Nick. The reason why nobody came to Trina's party was because everyone had gone to Nick's Animal Freedom Party at Peaceville Zoo. Trina goes to Nick's party to ask him why he's not at her own party.
Appearance
Edit
Trina's party was in the garage of The Riffin House, had pink and purple streamers around the room and many tables of food.
Participants
Edit
Trina Riffin - Trina Riffin was the person who was hosting the party. The animal she dressed as was a pink unicorn.
Mina Beff - Mina was the only real guest at this party. Her costume was a blue kangaroo.
Nick Mallory - Nick Mallory temporarily attended this party for a very short period of time before he ditched the party to go to his own party. He didn't bother wearing an animal costume.
Ad blocker interference detected!
Wikia is a free-to-use site that makes money from advertising. We have a modified experience for viewers using ad blockers

Wikia is not accessible if you've made further modifications. Remove the custom ad blocker rule(s) and the page will load as expected.