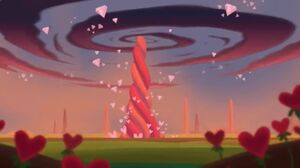 Trina's Dream World is an imaginary world that exists inside of Trina's mind, which all her dreams and nightmares inhabit. It is featured in the two part episodes "Dreamreaver Part 1" and "Dreamreaver Part 2".
Appearance
Edit
Trina's dream world is an imaginary world that has pink ground and red skies. Later on in Quincess Trina's land, it looked all dreamy and sweet.
Inhabitants
Edit
Episode Appearances
Edit
Ad blocker interference detected!
Wikia is a free-to-use site that makes money from advertising. We have a modified experience for viewers using ad blockers

Wikia is not accessible if you've made further modifications. Remove the custom ad blocker rule(s) and the page will load as expected.