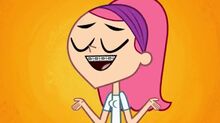 Reoccurring
Edit
"Hashtag Sabotage!"
"BAM!"
"It's called a lane loser, PICK ONE!"
"Ew! It's talking at me!"
A certain episode had her saying, "UGH! Im stuck in this box WITH MY BROTHER'S MUSIC?!?!?!"
"That extra pass is staying with me."
"What? I don't even get the chance to meet Cherry? After getting her all those stupid snacks? I even paid for them myself with Mina's cash!"
"All those movies were totally right. The greatest moments in life DO happen in slow motion!"
"Since when do guys like...BRAINS?!"
"Time to out-nerd the nerds as my completely surprising alter-ego."
"Sabotage is like, so satisfying."
"You wanna know what my special talent is? ... CRUSHING DREAMS!"
"What part of "Your band stinks" didn't I say?"
"Mega Gasp! Mina, sudden appearance!"
"In-Brain implant? Mina, if Nick Mallory gets one we'll be joined to the brain! I need this! ... A-HA! ... Wait until Nick Mallory gets a down-load of me; My brain sparkles! I am the harbinger of a glorious dawn! Meld with me and SUBMIT TO MY COMMANDS!"
"*"My brain has never sparkled so hard!"
"Nick has become lame, up has become down, left has become Wednesday."
"Mina! We need Candy to play "I can't tell I love you" so Nick and I can ride into Smooch City!"
"ARRRRGH!!!!" Why are you in MY BATHROOM?!"
"Just try to imagine ... Just Imagine ... How little I care and junk."
"Guess whose sister totally snitched you out? Hashtag Sabotage!"
"Five seconds ago, things were absolutely great! I miss the good old days!"
"Have fun trying to thrash this bash without your hands and bands."
"If I can't have love, no one can..."
"Oh No! The internet is like, outernet!"
"I'm so confused ... and angry!
"Argh, and things! It's been exactly two minutes and no Nick! It's like so date-time!"
"You're like, brutal."
"This outfit is perf...sorry it took two days, forgot you were here."
"Mina, stop feeling pain! Do you know how embarrassing it was to get cut from the scarfing team?"
"Heave and like, ho, or whatever!"
"Mina, costumes, now!"
"I don't know why it set on fire, it just did! So am I team captain or what?"
"Total chumps of Peaceville, I am Stiletto: the huge mega-enemy of the Justice Band! Those zeroes are not heroes!"
"Lips, it's go time!"
"Hi, Hunky Nick Mallory."
"Sigh, Mina. You're just like me when I was a scared little baby like you. Difference: I found someone to keep me safe from loud noises and things: Mr. Mooseface!"
"Nick Mallory is, like, such a babe! He's SO not weak and junk, and he smells so good and stuff!"
"IT'S THE PAST!"
"That's okazies..."
"OTHER WORDS ARE NOT NEEDED!"
"I got your text."
"Corey? Sing a love song? Scoff! He hasn't fallen in love and knows nothing about it..."
"That's when you're drowning, duh."
"And now you're losing your weak country! I'm so fake-sad!"
"I have plansies..."
"Who cares? Just whatever my number into the sky and tell them to text me!"
"Exist Elsewhere. NOOOOOOOOOOOOOOOOOOOOOOOOOOOW!!!!!!"
"Nick where are you going WITH MINA?"
Ad blocker interference detected!
Wikia is a free-to-use site that makes money from advertising. We have a modified experience for viewers using ad blockers

Wikia is not accessible if you've made further modifications. Remove the custom ad blocker rule(s) and the page will load as expected.