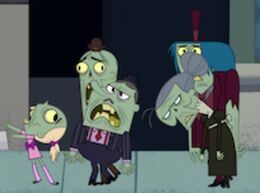 Zombies are characters that appeared in the episode "Dance of the Dead." They are a league of zombies that rose from the graveyard.
Biography
Edit
The zombies rose from the graveyard because of Corey playing a very bad Halloween song while using a magic amp. They invaded the Elementary High during it's Halloween Dance. They were hypnotized to go back into their graves when Grojband played the song Zombie Dance with the evil amp.
Known Zombies
Edit
Several characters were bitten by the zombies, and became zombified themselves, they are as follows.
One of the zombies is a little girl. This means that a girl had to die at a really young age for this to happen.

This zombified little girl appears in the Theme Song.