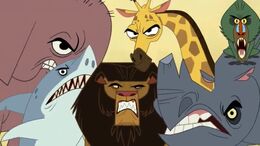 The
Zoo Animals
are a group of animals at
Peaceville Zoo
who appeared in the episode
Zoohouse Rock
. They are all animals who were trapped in the zoo which some animal protestors were against and so they started up a picket against the zoo, telling Mayor Mellow to let them out. After Grojband played the song
Stuck in Peaceville Zoo
, the campaign was motivated enough to break the animals out of their exhibits and the animals also gained the intention of breaking themselves out. However, they made a mistake as the animals all went wild and attacked them after they did.
Known Animals
Edit
Ad blocker interference detected!
Wikia is a free-to-use site that makes money from advertising. We have a modified experience for viewers using ad blockers

Wikia is not accessible if you've made further modifications. Remove the custom ad blocker rule(s) and the page will load as expected.